Bradley Cooper didn't look like himself at the Screen Actors Guild Awards that took place on Sunday, February 27th. While he was his usual dapper self in a sharp Gucci suit, and no doubt charmed everyone on and off the star-studded red carpet (including his A Star is Born co-star, Lady Gaga) fans couldn't help but notice that his face looked a little different (okay, a lot different!) leading everyone to suspect that his oddly smooth and silky complexion that made him look like a walking, talking Instagram filter had to be the result of a last-minute cosmetic treatment!
We understand that the 47-year-old Nightmare Alley actor may have wanted to undergo some sort of treatment to eliminate some wrinkles and look his best for the highly-anticipated awards season; however, neither he nor his team have given anything away, which is why the world is relying on the expert opinions of plastic surgeons, who see these kinds of transformations every day!
"Obviously, Bradley Cooper is a very good-looking, highly sought-after actor," Beverly Hills facial plastic surgeon Dr. David Saadat explained to Radar. (Talk about stating the obvious!) "He's not only known for his great acting but also his chiseled facial contours, although he looks a lot more smooth here," he continued, before adding that the Burnt actor may have "treated his wrinkles with a neurotoxin" procedure, which "can be noticed through the smooth skin that has an airbrushed appearance."
Saadat reiterated that Cooper may not have gone under the knife, as what he believes the actor *may* have had done can be achieved with fillers and other less invasive procedures. "It is also possible he may have had a small amount of cheek filler to address the inevitable loss of volume due to aging," he added, after saying that his muscles did seem to be more relaxed, from what he could see, and confirmed that in his opinion, Bradley "looks great and very natural!"
Win a free anti-aging serum from MOOD Skincare!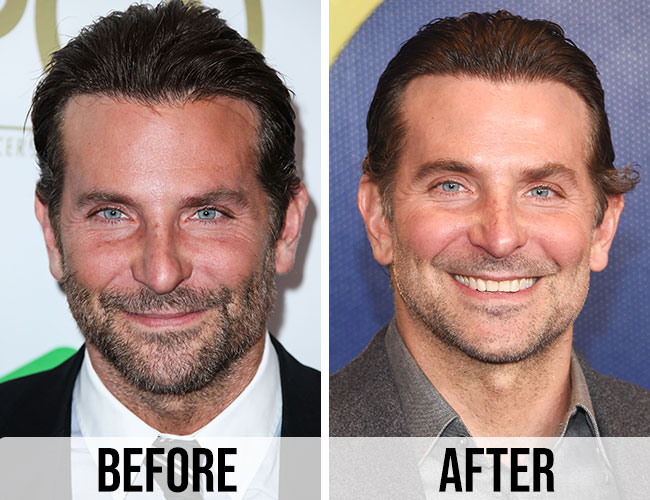 Splash News
The opinion that the American Sniper star didn't go under the knife to achieve his glowing new look was also echoed by LA FUE Hair Clinic surgeon, Jacques Abrahamian, who told Radar: "Comparing his before and after photos from the past to the most recent shows his skin is more evenly toned, fine lines have been diminished, and looks overall refreshed." And for anyone who wants to achieve the same wrinkle-free glow as the Oscar-nominee without going under the knife, Abrahamian had a few tips and tricks to share!
"A few non-surgical options available depending on the extent of downtime available can include PRP treatments with microneedling also known as platelet-rich plasma which uses patients own blood and the growth factors and platelets found in the PRP which can help with fine lines and hyperpigmentation with almost zero downtime compared to other treatments available," he suggested. "Another option available can be CO2 laser resurfacing which has more of a downtime typically between 7 to 10 days where the skin scabs up and the skin can become pink for a few weeks after the scabbing period which results in fresh glowing skin." And Botox shouldn't be discounted either, as "a great combination with PRP can also include Botox treatments which can soften fine lines." We feel so informed!
We would like to give thanks to the writer of this short article for this outstanding material

Bradley Cooper Looks Unrecognizable Now—A Plastic Surgeon Weighs In!